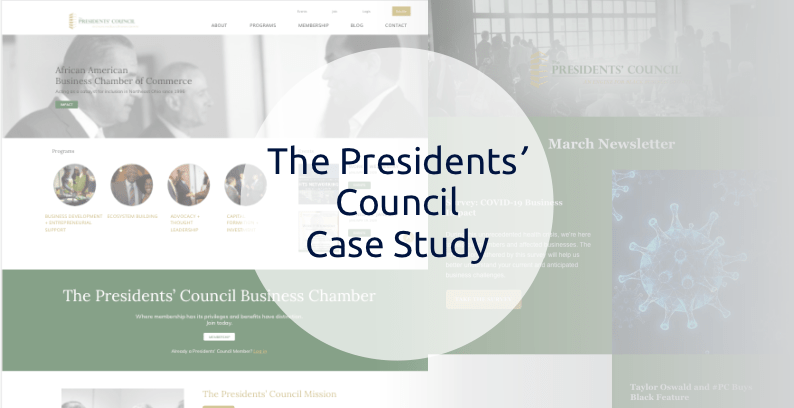 Case Study: The Presidents' Council
Case Study for The Presidents' Council
The Presidents' Council is a nonprofit and African American business chamber of commerce based in Cleveland, Ohio. Their mission is to support, develop, and advocate for the area's black business and entrepreneur community.
Opportunity
The Presidents' Council came to Outreach seeking a complete overhaul of the nonprofit's online brand. Seeking a partner who could manage all aspects of the nonprofit's digital marketing and web presence – from email marketing, social media management across multiple channels, paid advertising, developing and expanding an interactive membership website.
After being in business since 1996, The Presidents' Council online and visual presence needed an overhaul to build membership, attract new partners, and reach out to the community they serve.
Being a nonprofit, The Presidents' Council did not have the time, resources, or expertise to develop a consistent online marketing strategy and execute a holistic marketing plan. That's where the team of experienced marketing and design experts at Outreach came in.
Solutions
Elevate Digital Marketing
Website Design & Development
Copywriting
Graphic Design
Approach
The Outreach team took a collaborative approach in developing strategy and building the design elements, messaging, digital platforms, new interactive website, and other marketing aspects.
The approach was executed through three phases:
Startup – development of a holistic marketing strategy including social media messaging, monthly newsletter strategy, modern and interactive website, developed through strategy sessions with The Presidents' Council.
Build – Creation of simplified email newsletter design, social media posts (evergreen and custom content), online paid ads, website and interactive membership portal.
Ongoing Management – Active monthly management of social media platforms, email marketing, design, website, and other digital marketing activities. Deliver monthly analytical reports that deep dive into data and provide actionable insights to expand The Presidents' Council's online presence.
Impact
Social media presence has expanded – In a year, follower count on LinkedIn, Facebook, and Twitter is up by at least 25% and post engagement is consistently higher than The Presidents' Council's competition.
Redesigned and simplified monthly email newsletter campaign has dramatically increased open and click rate among members. The increase in engagement among members and organizational prospects alike has brought considerable brand awareness and timely content to their audience.
Paid Facebook ads have been used to hyper-target and promote the nonprofit's events, and have increased engagement and brand awareness.
Since launch 7 months ago, ThePresidentsCouncil.com website with an interactive membership portal has brought in over $5000 in membership dues. Website traffic has increased due to a modern responsive website design and Search Engine Optimization work. Members can now control their membership and pay membership dues through a fully e-commerce-enabled portal. The nonprofit has gained a valuable content-publishing platform for their organization and members, and the backend can be controlled and expanded by the click of a button.