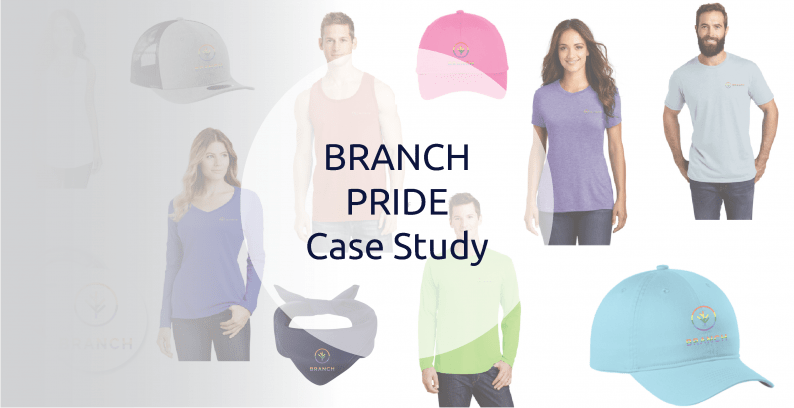 Case Study for Branch Insurance Pride Pop-Up Shop
Branch is an insurance company based in Columbus, Ohio focused on using technology and data to create a better insurance solution. Branch was started to restore insurance to its original intent: a force for communal good.
Opportunity
Branch has always had a designated Pride section on their employee store, offering t-shirts, hats, buttons, and bandanas with their rainbow-clad logo. They decided to take it one step further this year with a Pop-Up shop, encouraging employees to go in and select one apparel or tech item covered by Branch. They enlisted our help to get the store built and launched quickly to ensure their employees received their items in plenty of time for June's festivities.
Approach
We worked closely with the Branch's Director of People, Kim to select a curated collection of products for their Pride Gift Shop. Each apparel item was made available in a wide selection of colors in light of Pride, rather than their standard green, grey, black, and white for employee apparel. The products were not priced and settings were engaged on the backend to ensure employees could only select one free item from the shop. The Pop-Up shop was opened for a set amount of time, allowing employees to go in and select their item, enter their personal shipping info, and checkout with any comments or questions for our team.

Impact
Branch's Pride items are still in production, but we are certain their employees will be pleased. We will individually ship each item to the employee's home for ease and convenience, rather than bulk shipping to the client's office. This allows for a hands-off approach for their marketing team, as nothing needs to be distributed by them. Stay tuned to our monthly newsletter for photos from this project. We are excited to share!