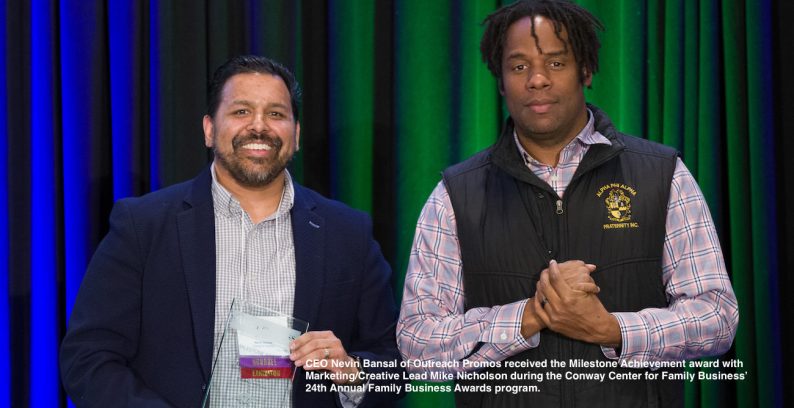 Press Release: 2022 Family Business Awards Program
Outreach Promos Receive Milestone Achievement Award from Conway Center for Family Business
COLUMBUS, OH – Outreach Promos was honored Wednesday, November 16, at the Conway Center for Family Business' 24th Annual Family Business Awards program with Milestone Achievement award for reaching its 10th

 

anniversary in business.

 
The program was established in 1998 to recognize excellence in family business in categories such as Milestone Achievement, Family Business of the Year, Succession Planning, and Rising Star.
"Family businesses are the backbone of the American economy and are vital to the Central Ohio economy and community," said Jill Hofmans, executive director of the Conway Center for Family Business. "Outreach Promos, through its continued success and resiliency, deserves this recognition of longevity."
"We are proud to receive the Milestone Award. I'm proud of our team's creativity and dedication to the customer over the last 10 years as well as our heritage from a family printing business started 35 years ago.  For us, 10 years was marked with a refreshed brand and stronger focus on our brandstores solution.  I'm excited about where we are headed over the next 10 years" Nevin Bansal, CEO of Outreach Promos.
More than 30% of all family-owned businesses make the transition into the second generation. About 12% will still be viable into the third generation, with only 3% of all family businesses operating at the fourth-generation level and beyond.
The Family Business Awards Program is made possible through the generous support of Columbus CEO, First Merchants, Gryphon Financial Partners, Taft/, and Porter Wright.
Call us a print shop. Call us a promotional product distributor or branded merchandise firm. You can call us a digital marketing agency or a full-service design house. We've been called a lot of things. The truth is – we do a lot of things. All of the above.
Outreach Promos is in the business of branding and growth. And to nail down exactly what we do, you'll have to keep scrolling.
The non-profit Conway Center for Family Business is Central Ohio's resource for educational programs, resources, and networking opportunities to support the growth and success of family-owned businesses. The Center celebrates the successes of family-owned businesses at its annual awards program and offers peer group opportunities for next-generation leaders, family business leaders, and women family business owners. The organization includes more than 200 family-owned businesses from Central Ohio ranging in size from three to more than 20,000 employees.