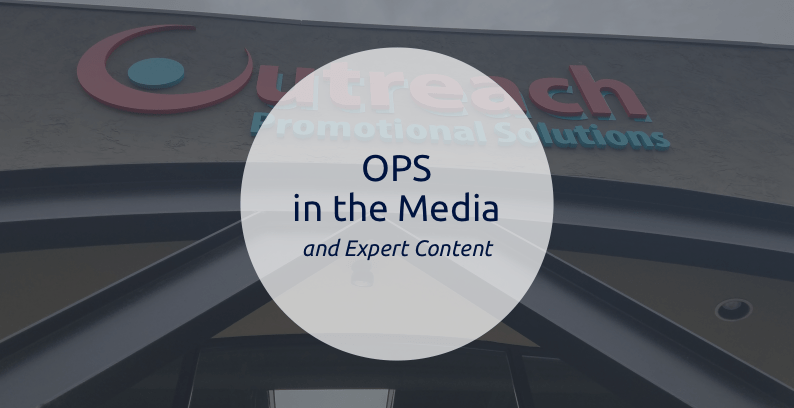 Outreach Featured in Media and Expert Content
Outreach Featured in Media and Expert Content
At Outreach Promotional Solutions, we are proud that we've had the opportunity to be in the spotlight on multiple occasions throughout these past few months. Our appearances in the media have ranged from featured articles to guest speaking, and even TV interviews! These media appearances showcase how Outreach has been able to adapt to a COVID-19 world and the continued success of our non-profit organization, Small Biz Cares.
Greater Akron Chamber Choose Growth Interview
Nevin Bansal, Outreach President & CEO, appeared on the #ChooseGrowth330 feature video for the Greater Akron Chamber to share his experience running a small business during the COVID-19 pandemic. Nevin shares how the team at Outreach has applied their skills to adapt to the new challenges that COVID-19 has created. Read more about how Outreach has successfully revised their business plan for COVID-19 here.
Conscious Capitalism – Conscious Capitalist Feature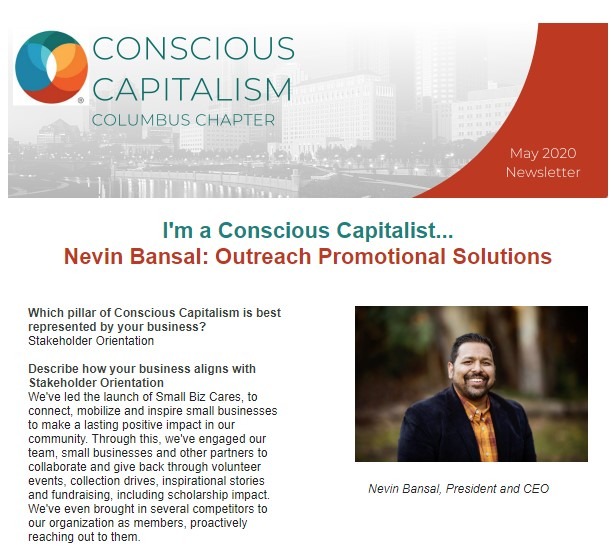 Conscious Capitalism Columbus interviewed Nevin Bansal for their May 2020 Newsletter about being a consistently conscious small business owner and the impact of his non-profit, Small Biz Cares. Nevin explains his goal of constant win-win transactions, as well as, building a good reputation in your community and the challenges that come along.
Better Business Bureau Webinar on Doing Well by Doing Good
The Better Business Bureau of Central Ohio reached out to Nevin Bansal, Executive Director of Small Biz Cares and CEO & President of Outreach Promotional Solutions, to share his experience integrating philanthropy into his small business. In this video, Nevin explains the proper steps to engage your team in non-profit opportunities, the importance of this, and how to identify existing team members for future roles in philanthropy.
10TV Small Business Support Feature
Small Biz Cares took charge of supporting local small businesses when COVID-19 shook things up and Columbus local news station, 10TV, took notice of the work Nevin Bansal and his non-profit were doing to help others. On his the 10TV appearance, Bansal shares how Small Biz Cares can help and outlines resources available for those who need help during this time, along with info on how you can help others.
Join the 5,000 marketers subscribed to our newsletter