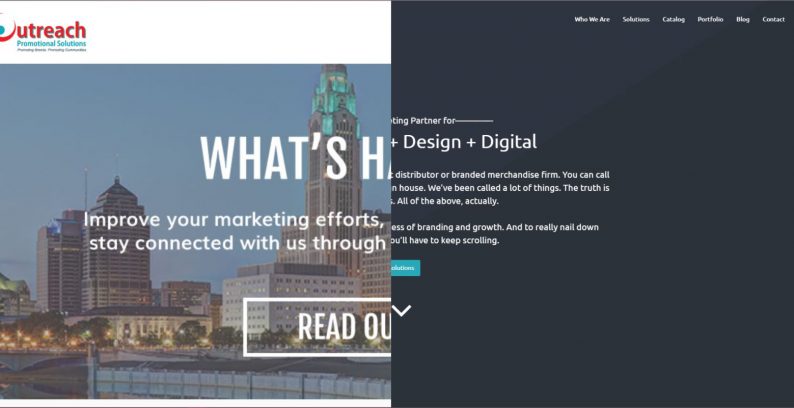 Website Redesign Best Practices To Know
If your website redesign keeps getting pushed back, your small business is missing out on potential customers. Small business owners have the difficult task of prioritizing what investments should be made to make their businesses succeed. If a small business hopes to see results from digital marketing tactics or any other promotional activities, they'd better have a current, easily navigable website.
A website redesign doesn't have to be a daunting project you delay for months. We just completed our own website redesign and can assure you that starting is the hardest part.
Outreach Promotional Solutions began as a promotional products distributor and print shop in 2012. When our services grew to include digital marketing and graphic and web design, we knew it was time to make some improvements. The creative team got together to list the technical problems we faced with the old website and the steps needed to execute our proposed solutions.
Below are four important, and necessary, areas to review when deciding if your business should prioritize a website redesign.
Bounce Rate:
Your website's bounce rate is the number of people who are landing on your website and then immediately leaving without taking any action. While it's difficult to define an average bounce rate, anything over 50 percent is generally considered high.
If your website takes more than 3 seconds to load, you're likely to have a higher than average bounce rate. Google's SEO algorithm to rank pages takes site speed into consideration. Having a slow page load can affect your indexation therefore your site's pages won't rank for the keywords you're trying to rank for. Page size, image size, caching and code overload are just a few factors that could impact your page's load speed.
Solution: Reduce the amount of unnecessary code, optimize your images before uploading and leverage browsing caching.
Design:
Design trends are constantly changing. We were happy with our website's design for a good amount of time, but it just didn't capture what our company is all about anymore. Every website from 2015 is going to need a face-lift after a couple of years. We opted for a darker look with easy to read fonts for our website redesign. A defined color pallet and new set of design elements helped as well. We used icons designed by Outreach Promotional Solutions instead of using graphics created externally.
Solution: Some design tips to consider for your website redesign include:Be conservative when using bright colors on a white background. This can make certain titles hard to read.
Don't overuse page animations and effects. Overusing animations and special effects make web pages load slower than you want. Think twice about using large image sliders on your homepage – or any page.
Make sure that the most important information you want your web visitors to see is located near the top of the page – or above the fold.
Information:
You want visitors to be able to see your website as a tool to find information quickly. If it's too difficult for your web visitors to find the information they're looking for, they will leave your site frustrated and find a competitor whose site is structured in a more user-friendly way. An About section and a Services section should be easy to find on any company's website. Potential customers shouldn't be 5 clicks deep to get the information they want. We once had this issue ourselves, but we took the steps in our redesign to fix this issue.
Solution: Simplify! Essentially this meant reduce the number of words, pages and images that were not absolutely necessary to our message. It also meant streamlining our Solutions page to only focus on information our customers would find useful. We made sure to organize the information in a way that was easy to understand. It is now clear on the home page WHO we are and WHAT we can do for small businesses.
Security:
When we are creating websites for our clients, we put certain measures in place that protect their sensitive information.  The big topic you have probably heard about recently is the HTTPS protocol which is enabled with the assistance of an SSL certificate. Although this surely HELPS, it does not always prevent cyber-attacks.
Solution: Here's how we secured our own site and what you can do for your own website. We began serving our site over HTTPS by connecting to a Content Delivery Network (CDN), and using a security suite that included monitoring, malware removal and a firewall. Your website is more vulnerable to security issues if it is not kept up to date.  You're also more vulnerable if your website is not yet compliant with the new HTTPS rules and not equipped with a Firewall.
Is it time to put your website redesign back on your to-do list? Not equipped to handle it all yourself? Let our team of web designers and account reps help you design a secure, easy-to-navigate website you can be proud of.