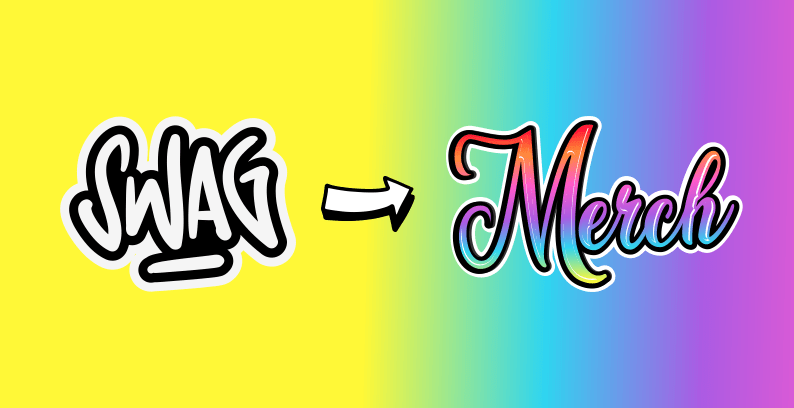 Sit down, Swag. Merch has arrived.
The Rise of Merch
Swag is out.
Merch is in.
We are seeing a major shift in our industry away from the use of "swag" and toward "merch" to describe the promotional products and apparel companies are using to offer their employees, partners, and clients a brand experience.
And we're here for it.
It seems while we were busy keeping our businesses afloat during the pandemic and selling "swag" and "promotional products", the market redefined our entire medium with one simple word: merch.
Some will always love the word "swag." Many have never and will never get behind it. The name for our medium has changed through the years from "advertising specialties" to "promotional products" to "swag" to "branded merchandise" and now to just "merch."
Clients are not to blame for the word they choose, as they are simply opening the conversation with whatever they've most recently heard in popular culture. This is why we are seeing the trend transition from "swag" to "merch."
A recent headline from The New York Times piece reads: "The Thirst for Merch"
Other headlines:
"Microsoft announces Hardwear clothing and merch line" (TechSpot)
"Kanye West trademarks "YZYSPLY" retail stores for YEEZY merch" (HIGHSNOBIETY)
"We need to have a conversation about Disney merch, and it might not be pretty" (Disney World)
The Fall of Swag
Swag isn't necessarily dead. It has just taken on a new, less-desirable meaning. If your brand has the intention of getting your logo in the hands of a lot of people, it's swag you're looking for. Swag is the stuff we all get and is now part of a larger landscape of promotional items.
The stuff we all get isn't exciting anymore, especially to a more environmentally-conscious younger generation. In fact, most of that stuff ends up in landfills, and that's just not the experience consumers are seeking.
Merch has a Higher Perceived Value
When the pandemic brought a halt to tradeshows and events, we all reevaluated our go-to strategy of flooding people with cheap plastic stuff.
According to industry pros Commonsku, "The unintended consequence of careless buying and conscience-less selling brought the opinion of swag (in the minds of some) to lower lows."
So this raised the question: How can we be more intentional with our brand?
We can be more intentional by recognizing that humans are more likely to remember the experience that they had over the things that they bought or were just randomly given. We can recognize that humans want to be part of a community, which stems from the way they felt when they had an interaction with that community.
We…You…can create an experience.
And thus, the rise of "merch," which has the implication of an emotional, highly valued experience.
Commonsku also claims that "'Merch' has become synonymous with products that people will pay a premium for and the implications this has for our industry can't be overstated."
More Than Just Stuff
Consumers want an experience. Not just stuff. They want to feel and be a part of the "coolness" that your brand has to offer. They want to tell a story with the t-shirts they wear and the products they use, which means quality is 100% a factor in the products you should be putting your logo on.
According to top apparel supplier Sanmar, "While there will always be uses for swag, this is another way merch makes a difference. By putting together cohesive packages that people want to keep and wear, it extends the life of not just the apparel, but also the story you're telling through it."
It's Not Just Semantics
It may seem like it's all just semantics, but the forward-thinking brands know it's so much more than that.
Merch commands higher premiums.
Merch creates an emotional experience.
Merch is intentional.
Merch has forward momentum.
Merch has changed.
And that's a good thing.