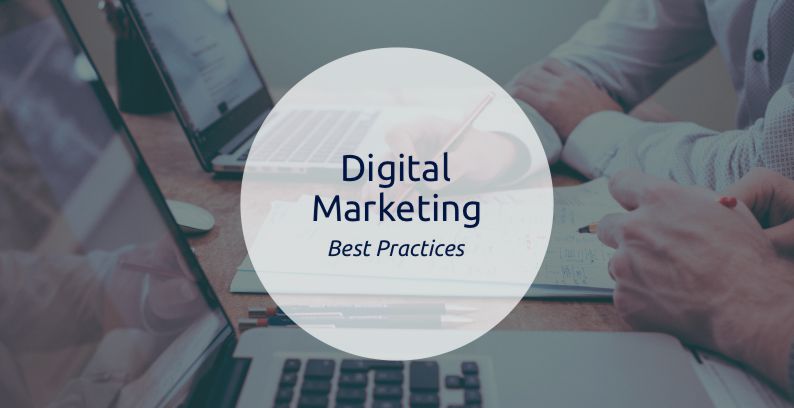 5 Best Practices for Digital Marketing In Today's World
5 Best Practices for Digital Marketing in Today's World
Digital Marketing is here to stay. Services ranging from social media management to website design, online paid advertising, regular email newsletters and more advanced email automation and more, will not only enhance your brand's online presence but will grow your business too.
Why use digital marketing? According to eMarketer, in 2019 digital advertising outpaced traditional ad spend for the first time. The research provider reported that total digital ad spending in the U.S. grew 19.2% to $132.18 billion, or nearly 55% of total U.S. ad spending for the period.
Now, you ask, where do I as a business owner start? Digital marketing is constantly evolving. With the influx of new trends, new tools, and new content, it can be difficult to know where to begin. Not to worry! We've put together our top 5 best practices to ensure your digital marketing efforts will succeed in growing your business.
Have a Plan – before you begin with any digital campaign, it's vital to make a plan! What are your goals for this campaign? Do you want to generate interest, brand awareness, or generate qualified leads for your business? Sitting down beforehand and outlining a concrete strategy that aligns with your goals makes you much more likely to follow through and be satisfied with your marketing results.
Think Differently – It's important to stand out from your competition. Do your research and see how comparable businesses are marketing themselves online, and then find a way to stand out from the crowd. Is a competing business running online advertising? How can you do it better? Retargeting your past site visitors with messaging to re-engage with your audience is a great way to bring extra ROI to your advertising budget. Is your competition posting content on social media? How can you create more engaging content that converts site visitors? Having a marketing partner who proactively asks (and answers) these questions is a must.
Use Visuals – Integrating compelling visuals into your digital marketing helps your audience emotionally connect with your brand. From infographics to quality photography, studies show that a piece of content generates 94% more views when paired with relevant graphics. Relevant visuals can include infographics, photography, video content, memes, screenshots, and more. Having a partner who's adept at creating powerful visual content is a must.
Be Patient – Digital marketing results are rarely instantaneous. Remember, it often takes time to see the results your business deserves. Sticking to your plan for at least 4 months increases your chances of success. Your audience needs to get to know you online, and if you haven't done digital marketing before, it's going to take time, as other businesses that have been at it a while will have a more visible online presence.
Measure Results – How do you know if your digital campaign was ultimately successful? That's where measuring results come in! With your goals in mind when you created your plan, it's vital to have a marketing partner who will draw concrete conclusions and provide actionable insights from the raw data. Providing recommendations on how to improve and fine-tune your marketing based on your goals (more incoming leads, brand awareness, etc.) ensures continuous high ROI.